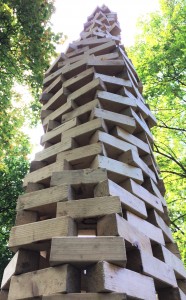 -> This was a real High Wooden Stack in Hochheim-Germany from Sep/26/2015.
It happened just spontaneously today, when i passed by a "Spielplatzfest" and saw the Kids FELIX, Klara and more building it.
Ok, i helped a bit, when it grew over 2.5 meters.
Then we made the "who can hit it from 10 meters with a ball" – game, but the soon end of this wooden tower was a diffenent one … nevertheless we had some refreshing laughter too.
-> This was real fun creating Stack today in Hochheim-Germany Sep/26/2015.